Malagasy Nature
Volume 3 : Biodiversity, exploration, and conservation of the natural habitats associated with the Ambatovy project (2010)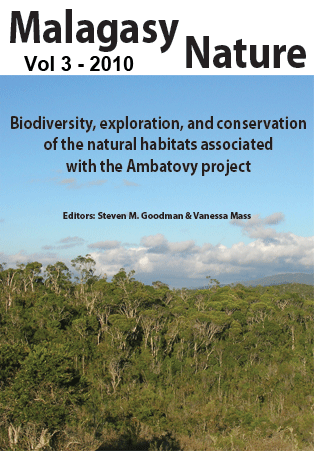 Le troisième volume de Malagasy Nature présente une série d'études menées dans les forêts d'Ambatovy, près de Moramanga. Ces études ont été faites dans le cadre d'une recherche concernant la biodiversité des zones partiellement couvertes de forêt, exposées à l'exploitation minière par le Projet Ambatovy. Elles ont été menées afin d'appuyer le programme de conservation au sein de ce Projet.
Outre la description des programmes de conservation et du suivi-écologique du Projet minier, ce Volume 3 montre les diverses informations biologiques et écologiques sur différents groupes d'organismes notamment, les invertébrés, les vertébrés, ainsi que les plantes. Il compile également les résultats des inventaires d'une zone à proximité de la région d'Andasibe qui a été intensivement étudiée depuis des décennies en mettant surtout l'accent sur les nouvelles découvertes sur la flore et la faune depuis ces 20 dernières années. Les nouvelles données présentées dans ce numéro soulignent l'importance biologique des zones étudiées. Elles constitueront des informations de base essentielles pour le suivi-évaluation des changements écologiques et spécifiques dans le temps et dans l'espace, apparaissant au sein de la biodiversité locale.
Preface - pdf

Ambatovy project: Mining in a challenging biodiversity setting in Madagascar

- Steven Dickinson & Pierre O. Berner -

pdf

Biological research conducted in the general Andasibe region of Madagascar with emphasis on enumerating the local biotic diversity

- Steven M. Goodman -

pdf

Introduction to the early 2009 biological inventories conducted by the Association Vahatra in the Ambatovy-Analamay region

- Steven M. Goodman & Achille P. Raselimanana -

pdf

Floristic inventory of the Ambatovy-Analamay mine site and comparison to other sites in Madagascar

- Peter B. Phillipson, Porter P. Lowry II, Lalao Andriamahefarivo, Patrice Antilahimena & Christopher Birkinshaw -

pdf

Survey of leaf litter ant species and assessment of invasive ants in the mining sites at Ambatovy, Madagascar

- Jean Claude Rakotonirina -

pdf

Watercourse ecological sensitivity classification as a management framework to ameliorate pipeline construction impacts associated with the Ambatovy project

- Johannes. L. Rall, Hasina Andriamanamihaja, Tsilavina Ravelomanana, Pierre O. Berner & Steven Dickinson -

pdf

The amphibians and reptiles of the Ambatovy-Analamay region

- Achille P. Raselimanana -

pdf

The birds of the Ambatovy-Analamay region

- Marie Jeanne Raherilalao -

pdf

The non-volant and non-primate mammals of the Ambatovy-Analamay forest

- Voahangy Soarimalala & Martin Raheriarisena -

pdf

The lemurs of the Ambatovy-Analamay region

- José M. Ralison -

pdf

The Ambatovy lemur population spatial monitoring program: Summary of primary objectives and methods

- Vanessa Mass, Gilbert Rakotondratsimba & Steven Dickinson -

pdf   
© Association Vahatra – ISSN  1998-7919
Pour accéder aux informations sur la mise en forme des documents à soumettre à Malagasy Nature, télécharger ici le fichier pdf. Pour des renseignements spécifiques sur le journal, contacter malagasynature@gmail.com.