Malagasy Nature
Volume 3: Biodiversity, exploration, and conservation of the natural habitats associated with the Ambatovy project (2010)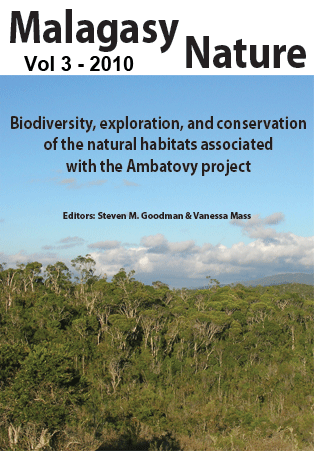 The third volume of Malagasy Nature presents a series of studies undertaken in the Ambatovy forests, near Moramanga. These studies were made within the framework of a research on the biodiversity partially covered forest zones, exposed to the mining by the Ambatovy Project. They were done to support the project conservation program.
Besides the description of the mining project conservation and ecological monitoring programmes, this Volume 3 shows the diverse biological and ecological information on various groups in particular, the invertebrates, the vertebrates, as well as the plants. It also compiles the results of the inventories of a zone near the region of Andasibe which was extensively studied for decades, in particular emphasizing the new discoveries on the flora and the fauna for these last 20 years. The new data presented in this volume show the biological importance of the studied zones. They will form basic information for the ecological and specific changes monitoring within the local biodiversity in time and in space.
© Association Vahatra – ISSN  1998-7919
For information on the journal, format for proposed submitted papers, and other aspects press here or contact malagasynature@gmail.com.